It appears that I was a good boy in 2011 because Father Christmas gave me a copy of "The perfect Ofsted lesson" by Jackie Beere over the Christmas break!!!  What a fantastic read it is.  Irrespective of your teaching experience this book is incredibly inspiring and written with a totally natural approach to teaching.
This book should be a must for an aspiring teachers (GTP, ITT, NQT) and I have recommended it as part of our staff induction programme.  The book comes highly recommended by both teachers, senior managers and inspectors.  It is also edited by Ian Gilbert, who some of you may know from www.independentthinkingpress.com. and www.independentthinking.co.uk
Within the book Jackie discusses the advantages and disadvantages of many teaching strategies and techniques, which are hugely beneficial to your teaching repertoire.  She leaves you feeling proud to be part of the teaching profession and makes the 'day to day' jobs seem pleasurable and necessary.
I have already amended schemes of work, lesson plans, room displays and my personable approach to students because of this boo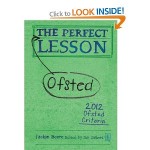 k.  I highly recommend it.
"The perfect Ofsted lesson" by Jackie Beere (ISBN 978-184590460-9)
Tim Mardle (DT AST)