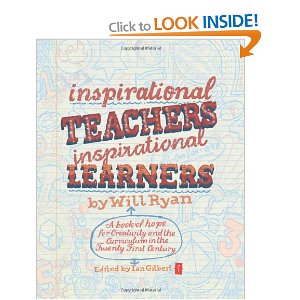 Who is it for?
'Inspirational teachers, inspirational learners' (by Will Ryan) is a book that should be read by all teachers.  The book itself is truly inspirational itself and a must have.
Outline of the idea
Essentially this is a book made up of 8 chapters that make you smile, ignite ideas, strategies and emotions and is so beautifully written.  I haven't put it down since buying it and carry it everywhere with me.  It is a reminder, it is a prompt of just how exciting our teaching can be.  The book will validate and support ideas that 'push the boundaries' in terms of enterprise, deep thinking, curriculum design and classroom environments.
When was the last time you used anywhere outside of your classroom to inspire and excite young people?
Just one question posed to you in the first chapter.
How it worked
Reading this book has helped me to completely rethink my KS3 in D/T: curriculum design, enterprise based projects, designing schemes of work based on paintings and poetry, taking students on 'learning journeys'.  I will be taking a completely different look at how I inspire my youngsters to think and solve problems.  Watch this space!!!!
Next steps
Change KS3 DT and introduce an early certificate at Year 9.  Take students away from the immediate school environment every half term.  Learn more about the school's locality: it's history and future prospects.  Build on the theme of enterprise.  Immerse D/T into the school's specialism of Media and the Arts.